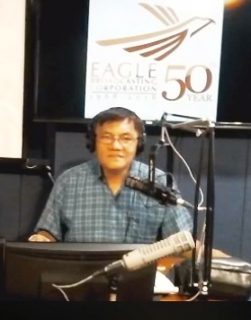 A Broadcast Journalist from Eastern Samar, Dodong Allan as he is fondly called by his colleagues, has been in the world of Media since 1988.
He first served as a Reporter of DWZZ 1026 Khz, then an announcer of DWSS in 1996.
He continued his work in the field of Radio broadcasting and became a news Director of DZAR-Sonshine Radio in 2009.
Aside from Radio, he also entered Print media and became a Columnist of People's Balita in 1997 and Abante in 1990.
At present, he serves as a co-anchor of the program Eagle in Action with Glenn Gatus, airs Monday to Friday at 10 AM, over DZEC Radyo Agila 1062.
He is also heard over DZRP – Radyo Pilipinas since 2016.
Inspite of his successful career in Media, Dodong Allan is a Doctor of Veterinary medicine in profession.
============